edited on Apr 27, 2018 16:50:18 GMT -5 by
DEBISIS
Post by Deleted on Jul 14, 2017 15:53:03 GMT -5
NIMUE VELYRIS
SOME SMALL WITTY SAYING OR QUOTE HERE, NOT TOO LONG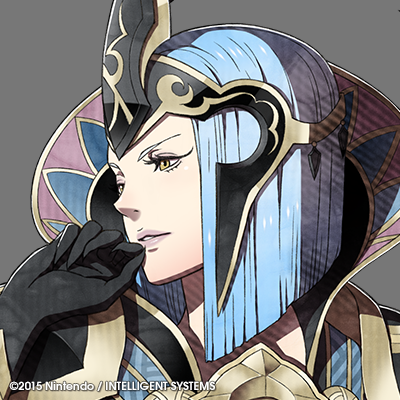 | | | |
| --- | --- | --- |
| QUEEN OF SEA ZORA | | LABRYNNA |
PERSONALITY
Flippant and ironic, Nimue speaks in a playful tone fitting for her haughty and sultry attitude. Though, this playfulness is unfortunately masked by her unusual manner of monotone speech that certainly compliments her sarcastic mannerisms. Her haughtiness, while quite annoying at times, is not completely unfounded. Everything she has achieved thus far has been from her own hands, through her efforts, through her own hard work. She gets carried away when she is working towards something she is extremely fixated on, but that is a rare occasion, as she is usually quite relaxed. Too relaxed one might say for someone in a position like hers.

Nimue is a quiet soul, never one to speak unless it is absolutely necessary to. She spends most of her time on the periphery of social situations, preferring to simply observe or be in close proximation to people rather than engage in whatever social pleasantries people were normally drawn to. If she does get into conversation with someone, she is still quite quiet, often preferring to listen to the individual and offer whatever response she feels is best and most appropriate. Unsurprisingly, people find it hard to converse with her. She can almost always be counted on to respond with succinct deadpan humor, or to offer (solicited) sage advice for anyone who asks for it. In fact, it is one thing that can be relied on by her, a consistency that is usually not taken too well.

However, this sardonic demeanour masks her caring self, seen by only those close to her, as many do not bother to look closer than what is initially presented to them. She always worried about Elaine while they grew up, doting on her two children and always being soft on them.

LIKES

[attr="class","scroll"]

Games - such as tables (similiar to backgammon) chess, and other strategic board games.
Her Family - she loves her children, both close and extended.
Playing Music - her childhood lessons consisted of academic lessons but also musical tutoring, she had a certain aptitude with the flute and enjoys playing it to this day.
Fierce Weather - she enjoys rain showers, as well as strong storms.

DISLIKES

[attr="class","scroll"]

Blind Ignorance - she has a strong distaste for people who judge people without actually knowing them.
Loudmouths - as she prefers to spend her time in quieter places, she thoroughly detests people who ruin her peace.
Politics - she finds politics to be a damaging sport, not something she wants to involve herself in, as it creates aggressive talks between people and bores her very much.



MOTIVATIONS

[attr="class","scroll"]

She wishes to secure the marriage between Gael and Cetus, having warmed up to her during the short meetings they had, and truly treasured Cetus like she was her own daughter.
She also wants to search for her cousin who disappeared so many years ago, as her duty has now loosened slightly, with her troublesome passed away and her honest advisor able take up the reins.

FEARS

[attr="class","scroll"]

Eleazar's Plan - unlike the rest of the Isle, who fear Eleazar himself, she fears that he will perform a deed that will make him irredeemable in everyone else's eyes.
Elaine's Disappearance - she is hoping that the worst is not the case, and that her cousin has not left her permanently.
HISTORY
Nimue Thetys was born to a particularly prominent noble family in Labrynna, known for having a purer breed than most Zora. Although she had no siblings, she grew up with her sister Eleazan. They took part in everything together, from late night escapades to simple daily activities, they were completely inseparable.

And then Eleazan fell in love. During one of their family's annual meetings with the Labrynnan royalty, Eleazan met Phorcys, a young prince who was next in line for the throne. They spent many an eve together, romancing each other and sharing in each other's stories, learning more about themselves and planning their futures together. The two sisters grew further and further apart, Nimue devoting herself to academic studies and Eleazan passing her time with Phorcys.

After some time, it was announced that the two would be married, a fact which had been established since the two girls' births. The reasons were twofold: since the Thetys family was well-known for their purer breed, they had formed an agreement with the Labrynnan royalty that the next generation would unite the two families in matrimony, giving the already noble Thetys an even higher position and the Velyris a greater claim to the throne (as they would have a better breed than most Zora). It was a greatly celebrated proclamation, by all of the Zora in Labrynna and even those in Hyrule.

But, the wedding between these two never came to fruition. On the day of the wedding, when Nimue and her household went to help Eleazan get ready, she had disappeared with no trace left behind. Both Nimue and Phorcys immediately set out with a search team to search out the Zora Seas and beyond to find her, but all efforts were in vain. After weeks and weeks of scouring the depths, there was nothing to be found, not even a small trail to follow, and they dejectedly gave up.

But their families, rather than respecting their privacy and giving them time to cope with Eleazan's loss, rushed together a new plan as the current king's health was deteriorating and they needed a new king to take his place, along with the promise of a continued lineage. Instead, they forced together the next best arrangement, that is Phorcys and Nimue. The wedding seemed to be a joyous occasion on the outside, but a choking sadness hung in the air, as the memory of Eleazan's disappearance permeated the ceremony.

As such, the two became husband and wife, quite unwillingly, but a couple nevertheless. Quite soon, the previous king succumbed to his illness and passed away, leaving the throne empty, and Phorcys ascended as next in line, with Nimue as his queen. But the absence of Eleazan had changed the two of them for the worse, with every moment they spent together widening the rift as they were reminded of her. Phorcys' once warm demeanor turned cold, as he ruled over the Zora's lands with an iron fist, consistent in his ruthless uniformity with the law. Nimue took interest in nothing much anymore, resigning herself to the palace's libraries and taking frequent visits to other parts of the seas to swim in silent reflection.

And then the light of her life appeared. After several unsuccessful attempts and against all odds, Nimue gave birth to an adorable set of twins, whom she named Eleazar and _____, after her sister. They became her joy, and she devoted her time entirely to him, raising him with love and care, while Phorcys merely littered his room with gift after gift, spoiling him with riches, not being actually present in his life. However, as he grew older, he would frequently burst into bouts of anger, followed by aggressive actions towards the household's servants and staff. His father began to question whether he was fit to rule if his emotions were so unstable and prone to change, until after one severe instance of this he decided to execute a plan to get rid of what he saw as a potential disgrace to his family. He told both Eleazar and Nimue that he would send him away to a boarding school for his education, the two only realizing later that it was a ruse to get rid of him.

Nimue begged her husband to bring him back at once, but Phorcys had made his decision and would not turn back on it. This widened the rift between them even further, as Nimue spent more time away from the palace, but Phorcys wasn't finished. Eleazar, for all his faults, had been their one and only heir and as such they needed a replacement for him to be his successor, even more so as Phorcys seemed to be falling into ill health.

To humour him, Nimue agreed to his request and they adopted a Hylian boy into their household. While many Zora were quite sceptical to this move, over time they warmed up to his presence and welcomed him into the community as well as accepted his legitimacy and succession to the throne. Nimue raised him with a lifestyle of moderation, Phorcys having learnt his lesson and backed away from raising Gael. She loved him just like she was her own son, but it was a painful process as she had still not fully recovered from the loss of her firstborn son.

Eventually, Phorcys' illness got the better of him and he passed away, leaving Gael without a father and Nimue a husband. As Gael was too young to succeed the throne at the time, Nimue took his place and ascended as their queen regent, reluctantly fulfilling her family's promise of producing a ruler for the Labrynnan Zora. She found this to be a boring station, full of empty agreements and blatant lies, leaving all of the actual political work to the Zoran council whose honesty made them an able helper. It was during these times that she made many visits to other towns and cities, the most important of which being when she travelled to the Zora Domain in Hyrule and met with their royal family, as well as their daughter Cetus, to listen to their proposition of marriage between Cetus and Gael which she accepted.

APPEARANCE
Nimue has white gray hair that is tied in a large bow on the right side of her head, with the ends wrapped around to the other side and curling up slightly at the ends. She has drooping eyes with gold irises and light brown plus-shaped pupils, and her eyebrows are large and slightly oval-shaped. Her pierced ears turn downwards slightly, with small white hoops hanging from them.

She wears a long black yukata over a pale purple jubon with green sleeves, as well as a patterned green obi sash to secure it all in place along with, much of the time, a lime parasol.

INVENTORY
TBA
WEAPON
Rank:
Common, Uncommon, Rare, Legendary
Type:
Sword, bow, lance, armor, etc.
Handling:
One handed, two handed, other, etc.
Description:
Be very thorough. Include the size, what it looks like, range if weapon, etc...
MAGIC
If you have opted out of using magic for another item slot, simply erase this and put the item you wish to use.
MAGIC TYPE:
What type of magic is it? Elemental (what element), Arcane, etc.
NAME:
Name of the Magic Spell
RANK:
Common, Uncommon, Rare, or Legendary?
CLASS:
Offensive/Defensive/Etc.
DURATION/COOLDOWN:
Please post how long this spell lasts and what the cooldown is per SC (spell caster) POST.
DESCRIPTION:
A general idea of what your spell does. Please include the range, how it effects your character and others, etc.
TRAITS

Diplomacy:
Journeyman

Social Etiquette:
Adept

Intimidation:
Novice

Persuasion:
Journeyman

Tactics/Leadership:
Journeyman

History/Religion:
Aprentice

Geography:
Journeyman

Arcana:
Journeyman

Weapon Proficiency:
Novice

Hand to Hand:
Novice

Endurance:
Journeyman

Stealth:
Adept

Acrobatics:
Journeyman

Horse Riding:
Novice

Swimming:
Master

Musicianship:
Adept

Board Games/Strategy:
Journeyman

Sarcasm:
Journeyman


PLAYER ALIAS: Staff of ZRP
FACE CLAIM: Fire Keeper - Dark Souls 3
REFERENCE: weeeelll......
ALTS: NPC


[googlefont=Oswald]
[googlefont=Raleway]
[googlefont=Roboto]
[newclass=.scroll]height:75px;overflow:auto;width:205px;padding-right:10px;margin:5px;[/newclass]
[newclass=.scroll::-webkit-scrollbar]width:0px;[/newclass]